In Production
Animal Symphony: a 1 x 60 documentary for Sky Arts and the Arts Council. New research is showing that some animals have remarkable responses  to key components of music. Nitin Sawhney composes a new Animal Symphony to explore those reactions, and Chris Packham discovers how humans and animals may have more in common than we've ever imagined.
Recent Productions
Hitler's Jurassic Monsters
For National Geographic Channels and Discovery Military. The story of a remarkable Nazi animal breeding programme to recreate extinct species. Due for transmission on NGC worldwide in mid June 2014.
The Spy Who Brought Down Mary Queen of Scots 1 x 60 Five and National Geographic
How England's greatest spymaster mounted one of the greatest sting operations in history, to engineer the execution of  Mary Queen of Scots. Summer 1586 is England's darkest hour. Elizabeth is living in fear of her life.  A group of Catholic extremists are planning to kill her and install the  Queen of Scots on her throne. Behind them lies the might of Spain, whose forces are ready to invade if the plot succeeds. One man stands in their way; Sir Francis Walsingham, Elizabeth's spymaster and security chief.
"This engrossing documentary uses meticulously crafted dramatic reconstructions to tell the story of how the queen's spymaster Sir Francis Walsingham thwarted the conspirators." Daily Telegraph
"the tale of how Walsingham foiled assassination plots – poisoned saddles and so on – with a repertoire of code-breaking and next level ruff collar espionage  is pretty gripping stuff." The Guardian
Secrets of the Arabian Nights 1 x 60 BBC4
Richard E Grant discovers how three hundred years ago the Arabian Nights first exploded into the West. Ever since then its stories have entranced generations of children, and seduced us with a vision of an exotic, magical Middle East. Richard meets writers and poets in Cairo's old city to learn why  the fantasy, strange humour and the wild, wily women of the Nights are key to understanding the real Arab world
Critics: Richard E Grant had a brilliant time travelling the Middle East uncovering the history and dissemination of Scheherazade's stories in Secrets of the Arabian Nights and gave the viewer a brilliant time right back. Lucy Mangan, The Guardian 
The Great Falklands Gamble 1 x 60 Five and History Channel
Thirty years ago Britain took an extraordinary military gamble to liberate the Falkland Islands. This documentary reveals the enormous risks we took, and  how a remarkable victory could have become a bloody defeat.
On April 2nd 1982 the Argentinians invaded the Falkland Islands, a tiny British outpost in the South Atlantic, 8,000 miles from the UK. Prime Minister Margaret Thatcher decided to send a naval taskforce to liberate the islands.   Senior officers who served in the campaign, such as Major-General Julian Thompson, reveal how appalling weather, overstretched British air defences, poor communications and even  incompetence sometimes stacked the odds heavily against the British.  But their very personal accounts also reveal how professionalism and sheer courage overcame these problems.  By explaining the hair-raising realities of individual battles, it sheds new light on the victory that we all remember.
Critics: "A cracking documentary, combining vivid archive footage, excellent interviews with square-jawed former soldiers and some worrying insights into the future of the islands.
The story will be familiar to many and yet there were still plenty of fresh details….The programme's thesis that Britain came remarkably close to defeat in the Falklands was powerfully made. Six ships were hit by bombs which did not detonate. Had they done so, the campaign might have been stopped in its tracks." Ian Hollingshead, Daily Telegraph
The Last Tommy BBC1 3 x 60
For two years we filmed  with the last surviving British soldiers who fought in the First World War, including the remarkable Harry Patch, who became famous as the very Last Fighting Tommy. This series tells the stories of these remarkable survivors, the eldest then 109 and the youngest 104, up until the end of the war in 1918.
The dozen men we interviewed were the last veterans of an army of five and a half million. Born at the end of the Victorian era they lived through the events that shaped Britain in the modern world.
Mysteries of the Vampire Skeletons 1 x 60 Five and National Geographic
Analysing a remarkable new archaeological find, we discover the disturbing truth behind the legend of the vampire. 
The film connects together a series of extraordinary grave finds which suggest that for many thousands of years our ancestors were haunted by powerful fears of the undead. These include skeletons with stakes driven through them, or large stones lodged in their jaw.  The film  includes an extraordinary interview with a  Romanian villager who witnessed  his neighbours cutting the heart out of a corpse that they believed to be a vampire.
Critics: Illustrated by stylised recreations and extracts from films and literature it's a fascinating detective story with clues coming from folklore, archaeology and historians. Daily Express
Bobby Moore 1 x 90' BBC2
On July 30th 1966 Bobby Moore led England to World Cup victory in one of Britain's greatest sporting moment. This feature length drama documentary tells the story of the greatest defender in the world.
Lie Lab 3 x 60 Channel 4
A thrilling TV experiment into the science  of lie detection, using the latest brain-scanning technology to test individuals who have been accused of a serious offence, but who claim they are innocent. We worked with a leading British psychiatrist, who used functional magnetic resonance imaging (fMRI) to  determine whether individuals were telling the truth or not.
FMRI scans show uptake of oxygen by the brain, and therefore different  activity levelsin areas of the brain associated with lying. More than ten separate trials fMRI scans have now been conducted, each showing that when people lie they harness particular areas of the brain more extensively than people telling the truth.
The Real Atlantis 1 x 60 BBC, ARTE and WNET
An archaeological detective story revealing for the first time how the Minoans, Europe's first great civilization, were destroyed by a massive natural disaster. Could this be the origin of Plato's story about Atlantis, the fabled city that disappeared beneath the sea? We discover the fate of the people who lived on Crete 3500 years ago, creators of the fabulous Minotaur and Labyrinth myth.
The King's War on Witches 1 x 60 Five and National Geographic
The King's War on Witches tells the extraordinary story of how King James 1's obsession with Satanism  led to the persecution and execution of thousands of 'witches' in Scotland and England. James even wrote  a book called 'Demonology' that became a manual for witchhunters, provoking notorious witchtrials in Pendle, Lincoln and across the UK . But extraordinary archaeological finds in Cornwall suggest that popular  belief in magic survived  the King's efforts to stamp it out.
Dispatches: What's in your Wine 1 x 60 Channel 4
Jane Moore investigates what really goes into our wine. Most people believe wine is an entirely natural product. But some of what we now consume  is chemically enhanced, sweetened and flavoured, creating a drink that one critic describes as no better than  "an alcoholic cola".   The European Union allows more than 40 different substances to be used in producing wine, including extracts from fish and dairy products, used to clarify the wines. But they're rarely, if ever, listed on the label. Jane Moore argues that wine ingredients should be labelled in the same way that food ingredients must be listed.
Elizabeth I – Killer Queen
Killer Queen? Did a controversial affair between Elizabeth 1 and Robert Dudley lead to a savage murder? We explore remarkable new evidence suggesting that  Dudley's wife, Amy Robsart was assassinated, so that her husband could be free to marry the Queen.
The sudden death of Amy Robsart in September 1560 sent shock waves through Elizabeth's court, and the entire country.  Amy was the wife of Robert Dudley, one of England's leading nobles and believed to be the lover of the Queen.  There had been rumours that the Queen wanted Amy dead, and had planned to have her poisoned. So when Amy was found at the bottom of a staircase in her Oxfordshire home, few people believed it was an accident, and many openly talked of how the Queen and Dudley had conspired to murder Amy.
The subsequent inquest returned a verdict of accidental death, apparently letting Elizabeth and Dudley off the hook.  But we now have access to the autopsy report, lost for 450 years, which suggests that Amy was murdered.
JFK's Women
John Fitzgerald Kennedy is still regarded as the most charismatic American President ever and perhaps the most iconic and tragic figure of the 20th Century.
But the true story of JFK has never been revealed. He was brilliant and charismatic. But he was also a reckless sexual adventurer who was prepared to risk his political career and, at the height of the cold war, his country's security in return for sex.
The Queen's Coronation: Behind Closed Doors 1 x 60 Channel 4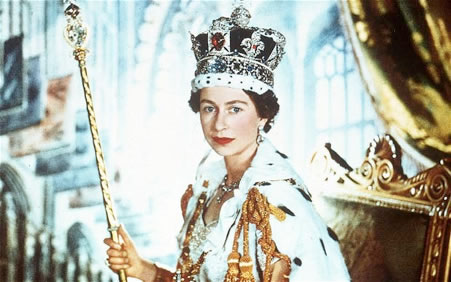 The Coronation in 1953 appeared to be a glittering triumph for the House of Windsor. But behind the scenes there was a story of rivalry at the highest level. Prince Philip was at odds with the Queen Mother and the royal establishment over his desire to modernise the monarchy, and the old Queen was uncomfortable with her daughter's sudden rise to power. Elizabeth was caught between her husband and the traditionalists in the royal household, who lived in an archaic, unchanging world. This documentary with dramatised excerpts and interviews with leading historians examines how Elizabeth eventually agreed to televise the full coronation ceremony inside Westminster Abbey, against the initial advice of Prime Minister Winston Churchill and the Cabinet. A decision hotly contested by her advisors, it marked a dramatic change in how the monarchy communicated to the public. Unwittingly, innocently, the Queen had given a huge helping hand to the medium that would do so much to undermine her family in later years.
Dispatches: Barrack Room Bullies 1 x 60 Channel 4

Andrew Gilligan investigated bullying in the British army, and revealed that the problem remained deep entrenched, despite attempts to stamp it out. The programme interviewed three former young soldiers, who had recently left the army, alleging  that they were severely bullied by their trainers. Their experiences included being physically assaulted by their NCO's, sexually humiliated and accused of malingering when clearly suffering from severe psychiatric problems. The programme uncovered fresh evidence compiled by Surrey police showing that the four controversial deaths at Deepcut barracks between 1995 and 2002 were only part of a disturbing catalogue of 150 incidents of rape, multiple rape, assault and sexual and psychological bullying.
In the Footsteps of Churchill 8 x 30 BBC4/2

Professor Richard Holmes goes in search of Britain's greatest wartime leader, following in his footsteps from his independent and rebellious schooldays at Winchester, to his leadership of Britain during its darkest house.  Richard travels to South Africa to discover Churchill's heroic actions during the Boer War, and explores the Cabinet war rooms in London from where he masterminded British victory in 1945.
Selling Sickness 1 x 45' BBC2

As a former psychiatric nurse ,  Jo Brand is fed up with the medicalisation of society: she feels that you can't have a stiff knee without thinking you've got crumbling bones, eat a sausage roll without worrying about having a heart attack or be grumpy for the day without being diagnosed as clinically depressed.  Jo sets out to find out why this might be happening and why the British are taking more prescription drugs than ever before.
Blackbeard's Lost Pirate Ship 1 x 60' (Five and WNET)

Blackbeard was the most feared, famous and successful pirate of the 18th century.  In 1718 his flagship, the Queen Anne's Revenge, ran aground off the coast of North Carolina.  We explore the wrecked ship and its artefacts to understand what may have happened on its last voyage.